---
When you visit our office you can be confident that you are receiving only the finest and most advanced dental care available today. Our office was designed with your comfort and convenience in mind. Our goal is to provide our patients with a truly unique dental experience and extraordinary personal attention.
Your Comfort
Our highly trained team of professionals is committed to providing you with the highest level of service. You can be assured to receive undivided attention from the doctors and team during your visit along with unparalleled compassion and care.
From the minute you walk into our office your comfort is our priority. From the inviting waiting area to private treatment rooms we want you to feel as if you were right at home. The attention to detail in our office design and decor directly reflects the precision and level of excellence we provide.
"Dr. Kinney and his staff were always available to answer any and all questions I had.
They spent a lot of time explaining all of my options and I never felt rushed or pressured."
Financial Arrangements
We are delighted to support our patients in their ongoing pursuit of dental health. Being sensitive to the fact that people have different financial needs we offer many different payment options. We accept payment with cash, check, and all major credit cards. In addition, we are pleased to offer patient financing through CareCredit and Springstone Financial. Please inquire for more information, or to set up a customized financial plan.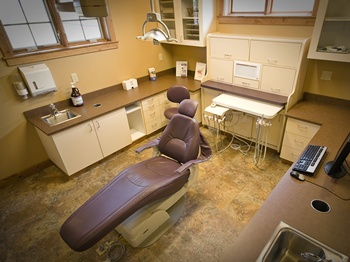 Advanced Care and Technology
Along with advanced technical and team training, we have incorporated state-of-the-art technologies and techniques to produce outstanding treatment results. These new technologies allow us to detect dental problems as early as possible and provide outstanding treatment as efficiently and comfortably as possible.
In addition to digital x-rays and 3-D imaging we are in constant pursuit of innovations in dental materials, products and personal care items. Not only do the many advances translate to a better treatment result, they also help provide you with information to help you play an active role in making decisions for your care.
The Environment
With an ever growing concern for the impact on the environment we have adopted a number of systems to reduce our burden on our community and global world around us. Through the use of digital technology we have eliminated the use of harmful chemicals and reduced the amount of waste generated daily. Computerized patient information dramatically reduces the amount of paper that we generate and contributes to more proficiency and convenience for our patients, doctors, and team. We go to great lengths to recycle any paper, plastic, glass, and other items to reduce our impact on our local environment.
Our commitment to Mercury-Free Dentistry not only means that we never use mercury-amalgam fillings, but we also take extra precautionary measures and use specifically designed treatment protocols to ensure your safety and ours when removing mercury fillings. A state-of-the-art mercury separator keeps the mercury from escaping into the community wastewater system. In addition, a special auxiliary air ionizer and filtration system captures mercury vapors released during the removal process. If you are curious about the hazards of mercury in dentistry, visit the International Academy of Oral Medicine and Toxicology, for more information and resources.